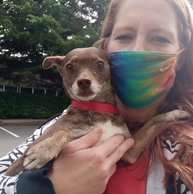 We are on a mission, a mission to be the voice for all the dogs! To save them all, one dog at a time, until there are no more dying in the shelters. We are a foster based rescue in Eugene, OR. We bring in medical cases that require funds to take of these dogs and to ensure that they find they're furever home! Your donations will go towards our vet bills as well as day to day care for all the dogs we have in foster homes. Make a one time donation or set up to donate to us monthly
Hi everyone, I'd love to tell you a little bit about our rescue. Our directors who have years of rescue experience, chose to branch out on their own in March of this year. To start a rescue with their beliefs, beliefs that people could get behind and support, like being the voice for so many used and abused dogs, finding furevers for dogs that didn't even have tomorrows. Building a supportive team that is appreciated because fostering really does save lives, and our rescue wouldn't be running strong without ALL our players!! Being so new, we don't have a nest egg, the rescue was started with just Melissa and Whitney 2 cents lol.
Unbreakabull Rescue Allies
We have BIG news coming... Jordan's way tour will be coming to Oregon and has chosen our rescue as one of the rescues they will be helping to not only raise money but raise awareness to what we're doing! We are so excited!! It will be a live event, where you can log in from wherever you are. Stay tune for all the updates!!